This product has been discontinued and removed from our shelves.
DSS(X)238, DTS(X)238 Three Phase Composite Active and Reactive KWH Meter
(Three Phase Meter, Three Phase Watt-hour Meter, Three Phase Energy Meter)
Brief Introduction
DSS(X)238, DTS(X)238 three phase composite active and reactive meter assumes high accuracy and high reliability. It adopts advanced super-low power consumption LSI and SMT international technology, together with key components from world-renowned companies. Our three-phase composite active and reactive meter can measure active energy and reactive energy accurately for three-phase meters. It is made in conformity with the technical requirements for three-phase electronic KWH meter stipulated in GB/T 17215-2002, GB/T17882-1999.
Thank you for browsing our website. We are a China three phase meter manufacturer and supplier since 1985. Our three phase meters are ISO and CE certified and are exported to different countries like Argentina, Mexico, South Africa, Philippines, Malaysia, and more. Apart from three phase meter, we can also offer single phase meter, prepaid meter, multi-rate meter, DIN-rail meter, etc. At Yueqing city, Zhejiang province, we hope that we will be able to work with you!
Function and Features
1. Our DSS(X)238, DTS(X)238 three phase composite active and reactive meter is of two-way power measure and fraud-proof function. It features high accuracy, high reliability, high overload, low power consumption, light weight and more.
2. It could measure three-phase active electric energy and reactive energy, needless for calibration after long-term operation
3. Three phase power supply. It can perform unaffectedly if one (any wire of the there-wire) or two (any two wire of four-wire) phases stop to work.
4. Wide temperature serving range.
5. Two-line metering, displaying the active and reactive electrical energy
Technical Data
| | |
| --- | --- |
| Rated Current (A) | 3×1.5(6),3×5(20),3×10(40),3×15(60),3×20(80),3×30(100) |
| Rated Voltage(V) | DSS(X)238 Two-phase three-wire 3×100V 3×220V 3×380V 3×400V or 3×415V DTS(X)238 Three-phase four-wire 3×220/380V 3×230/400V 3×240/410V or 3×57.5/100V |
| Rated Frequency (Hz) | 50 or 60 |
| Accuracy Class | Accuracy Class Active Class 1,Reactive Class 2 |
Noting A: 3×1.5(6)A(5A/CT) can be connected directly or through current transformer. Noting B: two phase three wire watt hour meter is also known as three phase three wire watt hour meter in some countries.
Illustrations
Outer and mount dimension
Application method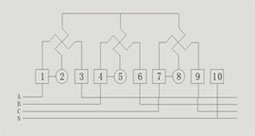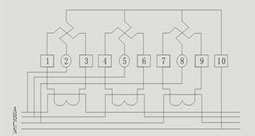 1. DTS(X) 238 three phase four wire direct connection
2. DTS(X) 238 three phase four wire through transformer connection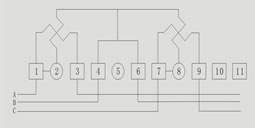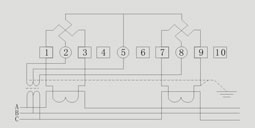 3. DSS(X)238 two phase three wire direct connection
4. DSS(X)238 two phase three wire through transformer connection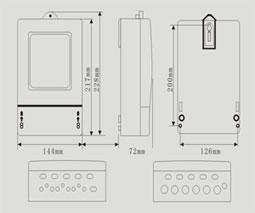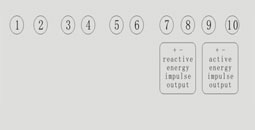 5. Meter function terminal wire connection
(NO RS485)