DTS238-7 three phase four wire or DSS238-7 two phase three wire din rail type energy meter comes with RS485 communication port and infrared port. The direct wire connection can be used and there is no need for external CT (computer tomography). Equipped with LCD display, this product is widely used to calculate the active energy of AC power grid. In addition, it has just 7 module width.
Technical Specification
1. Voltage: 3x230 400V (±15%), 3x220V, 3x380V, 3x100V
2. Basic Current: 10A
3. Max. Current: 100A
4. Starting Current: 40mA
5. Impulse Output: 200imp/kWh
6. LCD display: Support
7. Wire Connection: L1L2L3 N
8. Width: 125mm (7 module)
9. Meter Accuracy: ±1%
10. RS485 Communication Port and Infrared Port: Support
Note
Our customers can purchase energy meters with different voltages, different currents, or 60 Hz frequency from us, so please contact us as soon as possible.
Data Format
Serial
Identify Code
Data Format
Data Length(Byte)
Unit
Function
Name of Data Item
Read
Write
1
C032
XXXXXXXXXXXX
6
*
*
Modify Meter Address
2
C119
XXXXXX..XX
4
kWh
*
Set the Initial Value of Meter
3
9010
XXXXXX..XX
4
kWh
*
Read the Current Value of Meter
4
C030
XXXXXXXXXXXX
3
*
Read the Impulse Constant of Meter
Wiring Diagram
A. Three Phase Four Wire for Direct Connection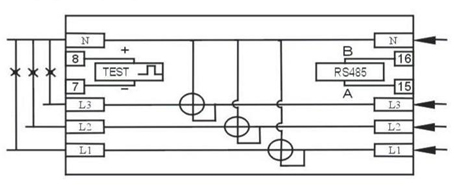 B. Two Phase Three Wire for Direct Connection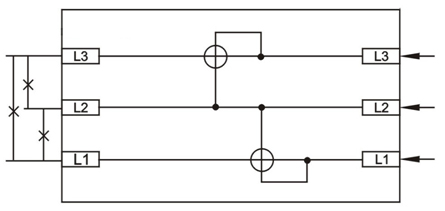 C. Three Phase Four Wire through External CT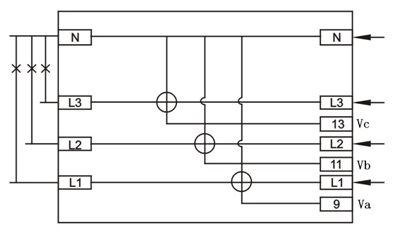 D. Two Phase Three Wire through External CT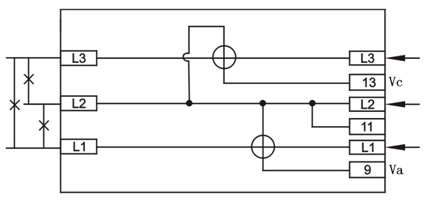 Outline and Mounting Dimension