Description
This electric meter is designed to measure three phase four wire AC active energy, suitable for three phase electric equipment and small and medium-sized enterprises and institutions, commercial and residential users who are charged by flat rate tariff. The meter meets IEC62053-21 and IEC62052-11 standards. Meter reading can be achieved by RS485 communication network.
Features
1. Active energy is measured bi-directionally and total, forward and reverse electricity can be showed.
2. Three phase realtime current, voltage, active power, reactive power, power factors and frequency measurement and display.
3. Interval electricity display available and it can be reset by pressing a button.
4. LCD shows reverse symbol if reverse electricity is measured.
5. LCD will show phase loss symbol if any phase loses.
6. Measurement for phase loss. The metering precision will not be influenced if any one phase or two phases of three phase four wire meter cut off.
7. Four kinds of rates (T1, T2, T3, T4) and 14 different time intervals could be set. 8. Bills could be automatically monthly charged. Electricity data of last 12 months could be saved. Data could be read through RS485 communication terminal
9. RS485 data communication terminal, compatible with DL/T645-2007 and MODBUS-RTU agreements.
10. Far infrared communication available.
11. Two wire energy pulse output for active and reactive energy passive pulse output.
12. While power cut, all storage data will not lose and can be saved for more than 15 years.
13. Able to sum up or reset accumulative working time and total electricity consumption during that time.
14. Meter width is only 125mm. 35mm DIN-rail installation. Similar shape as 7P breaker.
Technical Data
Rate voltage
DTS238-7 ZN three phase four wire 3x127/220V , 3x120/208V , 3x220/380V, 3x230/400V , 3x240/415V
DSS238-7 ZN three phase three wire(two phase three wire) 2x120/208V , 2x127/220 , 3x220V , 3x380V , , 3X100V
Working voltage range
0.8~1.2Un
Rate Current
5A/CT,1.5(6)A, ,5(60)A,10(100)A,or other as required
Frequency
50Hz or 60Hz
Connection mode
CT type or Direct type
Display
LCD
Accuracy class
Active class 1.0 Reactive class 2.0
Power consumption
< 0.5W/5VA /each phase
Start current
0.004Ib
Impulse Voltage
6kV 1.2μs waveform
Over current withstand
30Imax for 0.01s
IP grade
IP20
Constant
400~6400 imp/kWh
Clock accuracy
< 0.5s/day (23℃)
Pulse output
Passive pulse, pulse width is 80+5 ms
Communication port
RS485 port , baud rate 1200~9600 bps ,default is 9600bps ,address 1~247,None parity , stop bits 1 , data bits 8 .
Executive standard
DIN 43880,IEC62053-21,IEC62052-11,MODBUS-RTU
Work temperature
-30℃~70℃
Outline dimension LXMXH
125x88x73mm
Weight
Approx 0.7kg
Accuracy
| | |
| --- | --- |
| Voltage | 0.5% |
| Current | 0.5% |
| Power Factor | 1% |
| Active power | ±1% |
| Reactive Power | ±2% |
| Active Energy (kWh) | Class 1.0 |
| Reactive Energy (kvarh) | Class 2.0 |
Environment
| | |
| --- | --- |
| Operating temperature | -25℃~55℃ |
| Storage temperature | -40℃~80℃ |
| Reference temperature | 23℃+2℃ |
| Relative humidity | 0 to 95% , non-condensing |
| Altitude | Up to 2500m |
| Warm up time | 10s |
| Mechanical Environment | M1 |
| Electromagnetic Environment | E2 |
| Degree of pollution | 2 |
Wire connection
(1) three phase four wire direct connection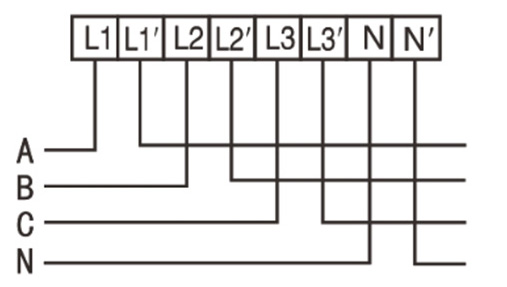 (2) three phase four wire through current transformer connection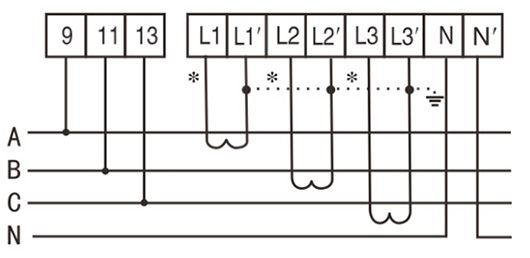 (3) three phase three wire direct connection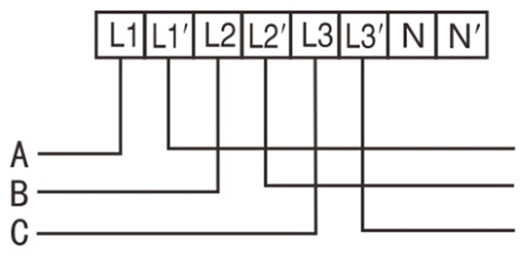 (4) three phase three wire through current transformer connection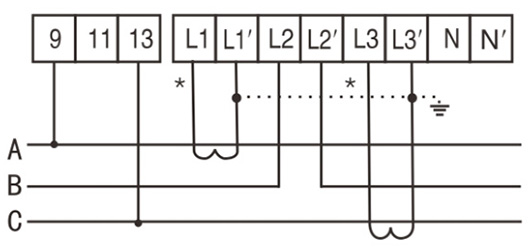 Terminal function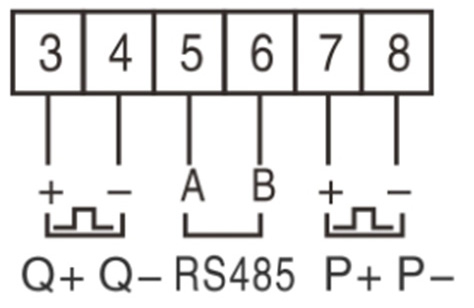 Outline dimension